Dried vegetarian minced meat products with ingredients grown in the Nordic region.
Development and production
SUNWIC from Sweden has developed and now produces a series of new dried vegetarian minced meat products. The ingredients are grown in Sweden, Denmark, Norway, Finland and the Baltic countries. No additives are added. It has a 24 month shelf life and a high nutrient content from multiple vegetables and grains. The impact on the environment of these products is just 0,5% of the impact of beef. Since meat does not contain any dietary fibers and most people don't eat enough fibers, we have included fiber rich ingredients for general health purposes. The names on the products are from the old Viking gods, Brage, Frej, Idun, Saga and Thor.
kg CO2e/kg
0,5% of the impact of beef.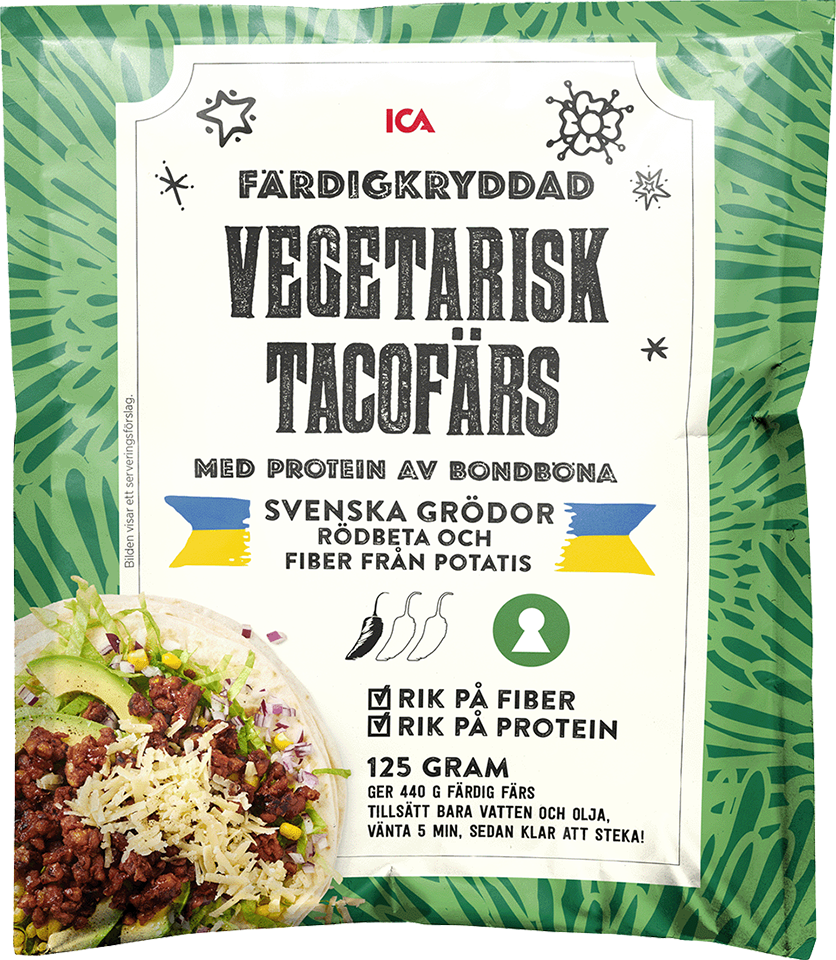 Good taste / Credentials
The Sweden-produced products are easy to prepare and taste very good. They were developed by Dr. Peter Bomgren and colleagues at SUNWIC, a health food company founded in 2009. Peter is a doctor of gastrointestinal (stomach) physiology and an expert on dietary fiber products. Thorough testing by chefs and customers has been successful.
SUNWIC is now looking for more distributors for these products.
Results from ICA's test with customers.
72% would recommend a friend to buy the neutral veggie mince and 80% the taco spiced veggie mince.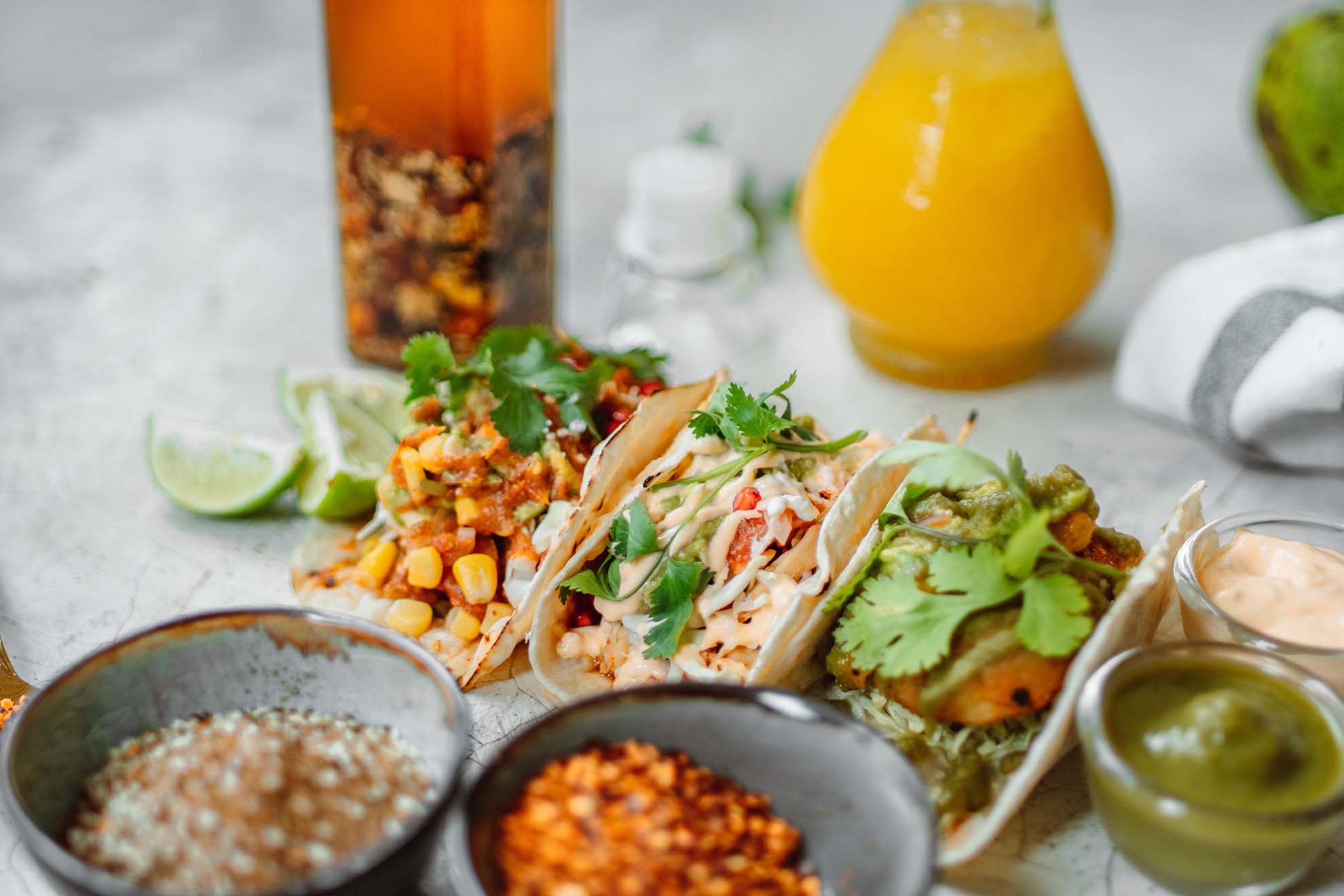 How to prepare and cook the products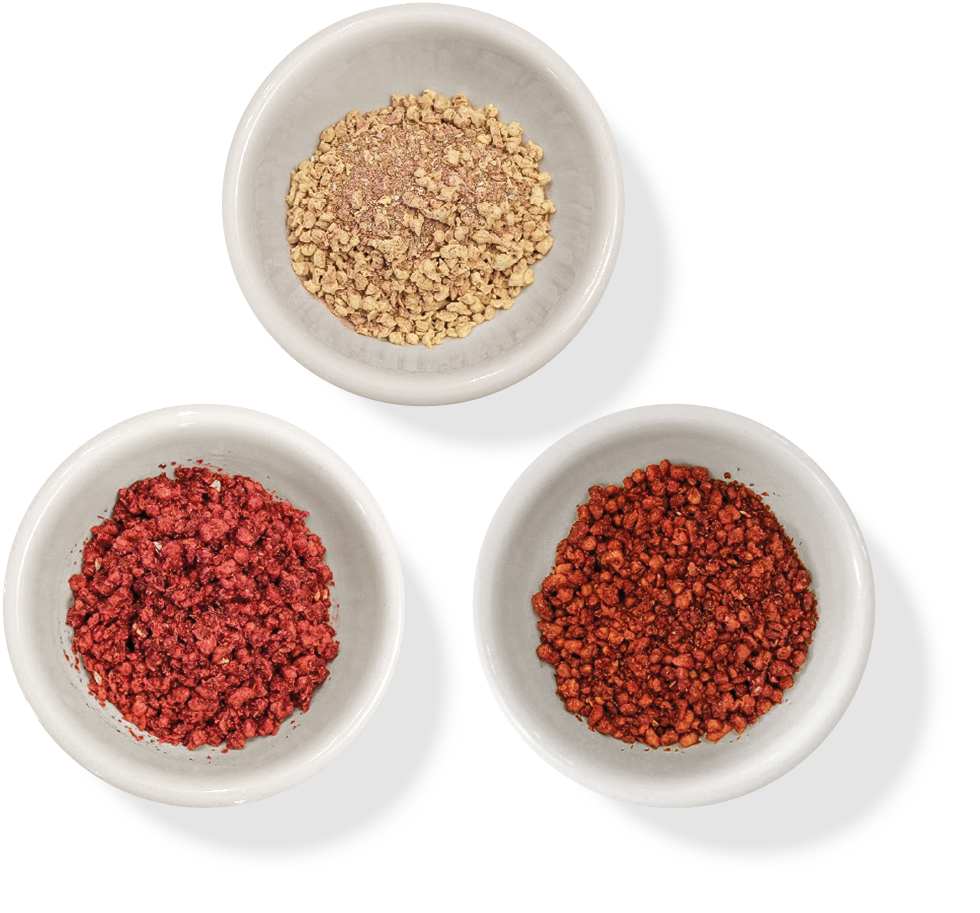 Prepare 125 g dry mixture
Empty the dry mixture into a bowl. Pour 1 tablespoon of neutral cooking oil over 3 dl of water. Pour the water and oil over the dry mixture and stir. Let rest for five minutes and then stir a little more. Now it is ready to cook. The mixture will make about 450 g of uncooked minced meat.
Pictures to the left show Idun dry, mixed with water and oil and fried.
Fry
Fry in neutral oil or oil and butter over medium heat until slightly crispy. Turn often. Compared to regular minced meat, which contains much more fat, the frying temperature is slightly lower and the time for frying a little bit longer. The mixture can stick to a cast iron frying pan, so feel free to use a frying pan with Teflon or similar material.
Tips!
For most dishes, it is best to fry it separately. Prepare the rest of the dish and then mix in the finished minced meat. Let boil or fry together for a few minutes. The minced meat is unflavored, You can spice it any way you would like. If you fry burgers or nuggets, do not make them too thick. 7-8 mm is best.
Versatile
The products are very versatile and can be used in many different recipes. Most people use them as a substitute or together with minced meat in pasta dishes or taco dinners.
Chef´s from school kitchens in Sweden
"We tried Frej and we liked it!
This is what we did: the minced meat was mixed with water and oil. Then, to 100g dry matter, 150 g finely grated carrots, 3 tbsp dried onion and 1 tbsp garlic was added along with frozen parsley, salt and black pepper. It tasted very good. The texture was nice and the taste fresh!"
"I have tested your minced meat with good results both cooked as a burger and fried as minced meat. Appearance and texture were good. Easy to shape and easy to flavor yourself. The storage capacity when it is dry is an advantage."
"Hello! We at Våxtorpsskolan have tested the minced meat Frej again, we were very happy with the result. We liked the taste and texture and it stayed warm very nicely. We liked that it was a pure product without a lot of additives and that it was easy to flavor however you wanted! Both students and staff liked the burger we made! We hope you get a quote so we can buy your products."
Private customer
who tried it at home.
"Fried burgers, a bag gives seven to eight burgers. Tested not to make them so thick, max 7 – 8 mm was best. It was crispy and with the right accessories it was very good, more than approved! My partner said this was the best she tried, a very good rating."
"For dinner today, Frej minced meat, a bag mixed with 3 dl beef broth and allowed to soak for about five minutes. I handled the minced meat as "regular" minced meat, which means a base with breadcrumbs, a clove of garlic, half a chopped onion, a little lactose-free milk, an egg, salt and pepper. The minced meat is allowed to fry on a relatively low heat, the six on my stove seems to work well. The good thing about this mince is that it has chewing resistance and crispy pieces, the consistency is similar to "regular" ground beef."
Content and
nutrient values
Frej
Frej is a malleable product suitable for pasta sauces, stews, nuggets, burgers and several other dishes.
Content:
Broad bean, pea fiber, potato fiber, beetroot powder, psyllium husk powder, carrot powder, salt.
Nutritional value 100 grams of dried product
Idun
Idun is suitable for pasta sauces, stews and several other dishes.
Content:
Broad bean, wheat, rye, oats, pea fiber, beetroot powder, carrot powder, salt
Nutritional value 100 grams of dried product
Saga
Saga is a malleable product suitable for pasta sauces, stews, nuggets, burgers and several other dishes.
Content:
Broad bean, wheat, rye, oats, pea fiber, beetroot powder, carrot powder, psyllium husk powder, salt.
Nutritional value 100 grams of dried product
Brage (taco spiced)
Brage is a simple way to add a vegetable-based mince to your taco dinner. It can be mixed with minced meat if desired.
Content:
Broad bean, pea fiber, potato fiber, beetroot powder, psyllium husk powder, chili powder, salt, cumin, peppers, onions, garlic, cayenne pepper.
Nutritional value 100 grams of dried product
Health benefits
The effect of dietary fibre on health is strong. This is now clear as shown by scientific studies which points out the importance of the intestinal microbiome (mostly bacteria) on, not only our gut health, but also our general health. The composition and the metabolic activity of the microbiome is in large directed by our diet.
Dietary fibre promotes a healthy intestinal microbiome. By eating a variety of dietary fibres a more diverse composition of health giving microorganism will colonize the intestine.
Since most people in the western world eat less dietary fibre than recommended by health authorities, SUNWIC´s product aims at increasing the intake of this important nutrient. People who eat the recommended daily amount of different fibres will be healthier.
No fibre in meat!
Our products are substitutes for meat in many recipes. A serving of Sunwic of about 80 grams will contain between five to eight grams of fiber. Since the meat doesn´t contain any fiber, this is a great boost to your daily intake of fiber. Five grams of fiber equals about 20% of your daily needed intake as an adult.
Calories per 100 g ready to fry product
Nutritional content per 100 g ready-to-fry product
Environmentally friendly– impact comparison
Environmentally friendly
The large negative impact of beef, along with meat from pigs and chickens, is heavy on our environment. Choosing to eat more vegetarian foods or mix vegetarian minced meat with ordinary meat reduces this negative impact on our planet.
The broad bean used in this product is a legume that naturally binds nitrogen to the soil and thereby reduces the need for fertilization with this soil nutrient.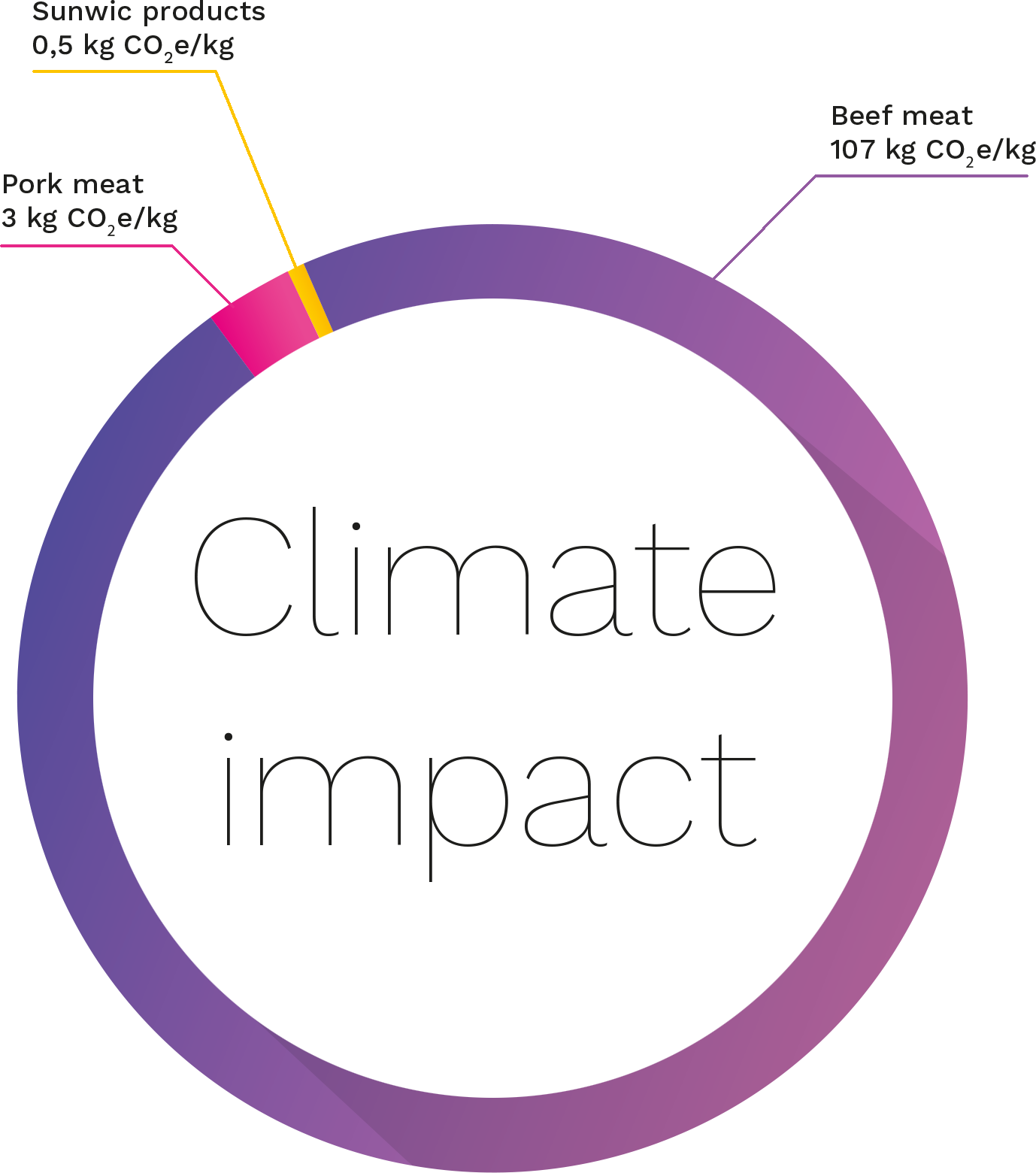 Summary
SUNWIC's new vegetarian minced meat products are climate-friendly. These products impact the environment 75% less than frozen soy mince. The reason is that they are produced in a very climate-friendly way. A dried product uses much less energy than a product that needs a constant low temperature, both during transport and storage!
The climate footprint for different vegetarian minced meats measured in kg CO2e/kg ready-to-cook products.
Private label or SUNWIC label?
This is up to you as a customer/distributor. SUNWIC is not a marketing company, so we would prefer to work with a distributing partner with good marketing capabilities.
Shelf life: at least 24 months.
Storage: store dry and at room temperature.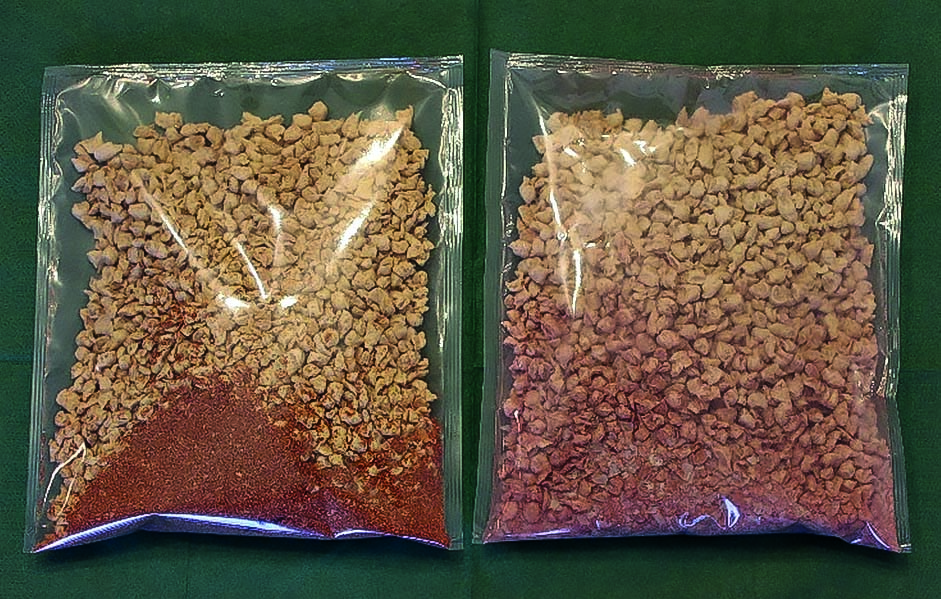 In the picture is Brage and Frej.
Price and
order information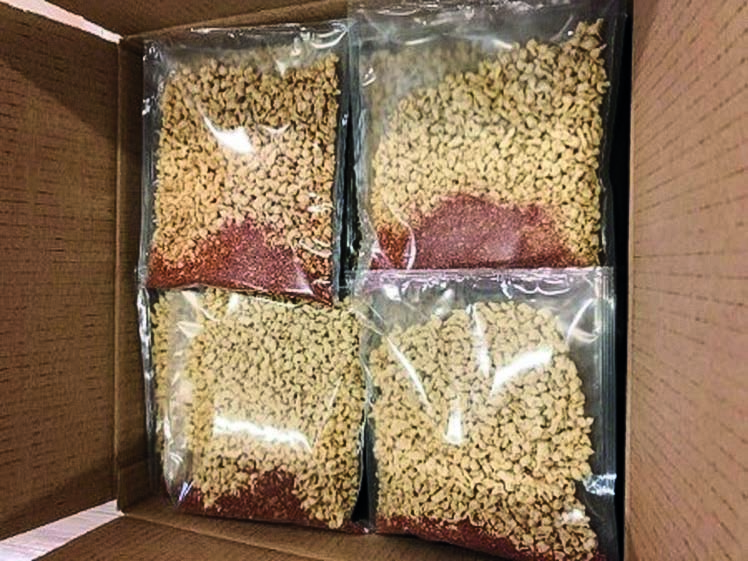 Price
The price depends on the order quantity. It will cost around 25-30 Swedish crowns per consumer bag, which is 125 grams and equals 450 grams of the ready-to-cook product. Please remember to make price comparisons with ready-to-cook weight and not with the price per kg of dry product.
Delivery time
Orders will be ready for shipment about 12 weeks after an order is placed.